Hey guys, Drew back here, I think I am forced to post about our very close to becoming our all star center fielder, if that makes sense. I have good news, and some bad news:
Let's start with the bad news, for me. Yesterday the Yanks traded Brian Bruney to the Nationals, for a player to be named later. Sure, he wasn't all that effective last year, BUT, he is going to the WORST TEAM IN BASEBALL!!!!! So basically, he won a world series, and got shipped to the worst team in the league. Hopefully he gets back on track and has more opportunities. I sure did like Mr. Bruney when I met him, and I feel really bad for him. I currently have 3 of his autographs, one on 8x10 and 2 cards. See you later Brian, I hope you enjoy playing for one of the worst teams in baseball history!

More bad news, no more Austin Jackson or Phil Coke. Austin is a big prospect for the Yanks, but I feel kinda glad for him because he was stuck in a big issue, because the Yankees have 2 young center fielders already, he would never get any opportunity to play. Phil Coke was starting to become one of the Yankees best relievers, as a ROOKIE, and now he's gone. I really liked all 3 of these guys, but they may have more success in a different jersey, other than Coke.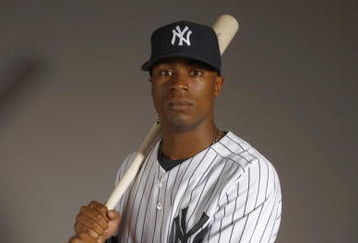 First good news isn't anything major but, IAN KENNEDY IS GONE!!!!! YAY!!! I'm pretty sure in 2008 he went 0-11 with like a 10 E.R.A. Sure I feel bad that he got Tommy John surgery, but he didn't fare very well in New York, the concrete jungle where dreams are made of!
The second good news, is actually awesome news. The
Yanks are getting Curtis Granderson
from the Tigers in a 3 way trade with the D-Backs also involved! Max Scherzer is going to the Tigers, along with Austin Jackson & Coke, and Edwin Jackson/Ian Kennedy are going to the D-Backs. The Yanks are getting a close to 5 tool player, a gold glove caliber center fielder that has been an all star before! AWESOME!!! I don't know if you remember, but I got this back in the mail from Mr. Granderson a little while back, here it is if you forgot:
Anyway, this is some pretty awesome stuff the Yanks are doing here, but you gotta remember that to get something you MUST give something, and unfortunately 2 of my faves are now gone! I can't wait to see if they are going to keep Pettitte, Damon, and Matsui, you never know! See Ya!
I got a few trades I need to post but my scanner is really annoying and it's gonna be tough to get it all posted, lots of stuff came in yesterday.