Hey guys, Drew back here, and me and my dad just broke a fresh box of 2007 Upper Deck Masterpieces Baseball. I bought the box from my local hobby shop for $55, rather high priced for this type of box, but supported the shop, always good to do. Here is the review:
PRODUCT CONTENT:
18 Packs Per Box
4 Cards Per Pack
72 Cards Per Box
1 5x7 Cabinet Card Box Topper
3 Memorabilia Cards Per Box on average
1 Autograph per box on average
Base Set: 90 Total Cards consisting of rookies, legends, and veterans
Green Parallels: The most common insert, cards with a green border instead of the white
Other Parallels are commonly serial numbered to 99 or less
MY BOX BREAK RESULTS
64 Base Cards (71% of base set)
Jered Weaver 5x7 Box Topper
Carlos Lee Captured On Canvas Relic
Will Clark Captured On Canvas Relic
Brian Roberts Captured On Canvas Relic
Jason Bay Strokes of Genius Signatures
2 Black Bordered Parallels #ed to 99 of the 2004 Red Sox and Tom Glavine
5 Green Parallels of Chipper Jones, Tom Glavine, Andrew Miller RC, Babe Ruth, and Alex Gordon RC
You can see it all here...
Product Review:
Design:
I think Masterpieces is the BEST card design Upper Deck has, but does have to compete with Allen & Ginter for all the marbles. I love the canvas feel to them, and the paintings are incredible! One thing also that Upper Deck does well here is the players included. Sure Jered Weaver, Stephen Drew, and Howie Kendrick weren't cool to find but I had no other problems. The legend photos are incredible and this set definitely shouldn't have disappeared from baseball.
Grade: A+
Price:
The price for this product is a very good one. On Blowout,
you can find these for $43.99
, a steal for the results. I got my box for $55 at my hobby shop, which wasn't bad but I should've ordered online. Getting 4 hits for $45 is without a doubt a steal.
Grade: A+
Hits:
These hits are decent. If you are a high end collector, these aren't your types of hits. You only get 2 numbered cards (I think) per box, and the hits are either single jerseys or a single autograph. You can get lucky and find a patch or patch auto or something but I didn't. My hits were pretty good. The Carlos Lee jersey was pretty upsetting, and the Roberts isn't great but isn't bad either. Both of those cards are for trade. The Will Clark game used was a nice surprise, but still not really nice enough. But to save the box, we pulled a Jason Bay auto, which probably sells pretty well now considering he is a star in Boston. Well, he always was a great player but he played in Pittsburgh so he didn't get the attention. The hits were pretty good.
Grade: B-
Overall:
Overall, I enjoyed opening the product. I found a lot of very nice cards, and cards I would want to pass down when I'm older. The pictures are incredible, and so are the players. We got decent hits including the Bay auto, which seems to be hit of the box, and is currently not for trade. The other 3 could be traded if you want them, but aren't that bad for me to keep. So, this box was a ton of fun and if you want to spend $50 on 15 minutes of fun, be my guest. Fantastic product. Thanks UD for making it! One suggestion though: I know you did it in basketball UD, but throw in some of these as inserts in your flagship brand. They really are beautiful cards and I don't want to see them leave.
Overall Grade: A+
So, I will be leaving for New Hampshire on Friday for about a week, so I'll be missing you guys. After that, I want to buy a 09 Allen & Ginter box, and after that is my birthday and I hope to get some boxes then (and an iPod touch!). Thanks for looking guys, and see ya!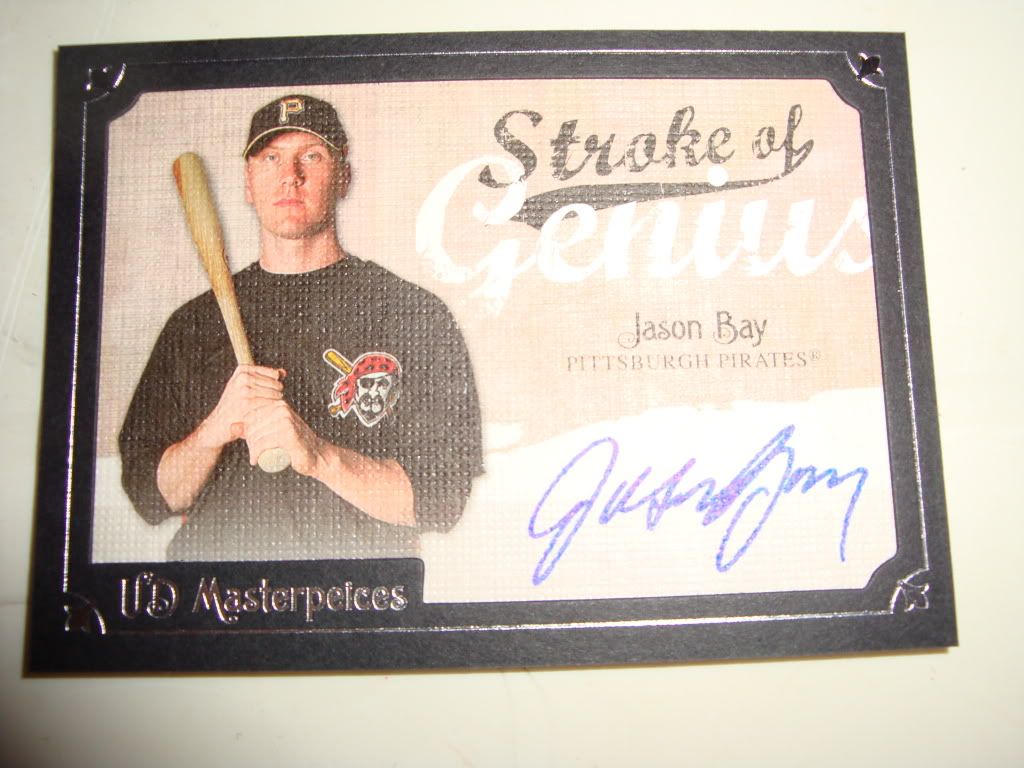 WANT LIST
I want to complete this set badly. I need 24 cards, and if you have these please contact me by e-mail, dmihans@optonline.net. Thanks!
12
- Ryan Howard,
15
- Hideki Matsui,
16
- Roger Clemens,
17
- Sandy Koufax,
18
- Reggie Jackson,
20
- Ty Cobb,
25
- Carl Yastremski,
27
- Dice-K RC,
29
- Ken Griffey Jr,
31
- David Ortiz,
41
- Josh Hamilton,
43
- Ichiro,
54
- Yogi Berra/Jackie Robinson,
56
- Hanley Ramirez,
57
- Victor Martinez,
58
- Cole Hamels,
67
- Ryan Zimmerman,
69
- Chien-Ming Wang,
70
- David Wright,
71
- Ryan Howard,
80
- Craig Biggio,
83
- Billy Butler RC,
84
- Andy Laroche RC,
90
- Curt Schilling
To make it easier:
12, 15, 16, 17, 18, 20, 25, 27, 29, 31, 41, 43, 54, 56, 57, 58, 67, 69, 70, 71, 80, 83, 84, 90
See Ya!
To see other drewscards Box Reviews go to
this page